Background :

       The ASEAN Center for Food Contact Materials Testing is the governmental laboratory under Division of Food Products and Food Contact Materials, Department of Science Service (DSS), Ministry of Science and Technology, Thailand. More than 30 years of expertise, the center play an importance role in providing testing service of food contact material safety to ensure that the products manufactured by Thai Industries are meet the requirements of national or international standards and regulations in order to protect Thai consumer's health. Since 2011, the center has been committed by the Ministry of Commerce to issue the Certificate of Analysis (COA) in the scope of food contact material to support Thai exporter. In ASEAN region, the center integrating with Division of Chemical and Consumer Products under supervision of DSS has been endorsed by the ASEAN Consultative Committee on Standards and Quality - Prepared Food Products Working Group (ACCSQ – PFPWG) to represent for ASEAN Food Reference Laboratory for Food Contact Materials (AFRL for FCM) since September 2014.

Establishment of AFRL for FCM :
| | | |
| --- | --- | --- |
|    |      |   |
      As the vision of ASEAN leaders to transform ASEAN into a single market by 2015, 9 working groups of products were established under supervision of ASEAN Consultative Committee on Standards and Quality (ACCSQ) in order to facilitate ASEAN Free Trade Area (AFTA) and initially harmonize regulatory requirements in several areas among ASEAN. One of the most concerning product is the prepared food products that can be contaminated not only from environment but also from chemical migration of packaging. By this reason, ASEAN member countries have seen the importance of safety in the use of containers for food and food contact materials to ensure the safety of food products. Therefore, the 11th ACCSQ-PFPWG meeting during 15th – 16th of July 2010 in Manila, Philippines, the committee approved the proposal of Thailand by DSS on the establishment of ASEAN Reference Laboratory on food contact materials (AFRL for FCM) by 2014 as it was written in the AEC scorecard. The committee assigned Thailand as the leader in survey and collection of standards and regulations relating to the food contact materials among ASEAN member states. During 14th – 15th August 2014, three ASEAN experts from Singapore, Malaysia and Viet Nam carried out the on – site visit at DSS in order to evaluate the performances and capabilities as the candidate of AFRL for FCM. Eventually, the 19th ACCSQ-PFPWG meeting during 3rd – 4th of September 2014 in Yangon, Myanmar, the committee endorsed DSS as AFRL for FCM in the scope of five materials; plastic, ceramic, glass, metal & metal alloy and coating & varnish. The additional scope of silicone was officially approved by the 21st ACCSQ – PFPWG meeting during 19th – 20th November 2015 in Manila, Philippines.
 
Roles and functions of AFRLs :
AFRLs have the roles and the functions to support technical issues related on food and food-related testing in ASEAN network in the area of their expertise: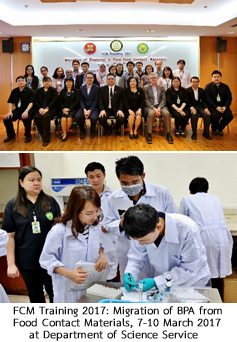 Recommend new analytical test methods to be used by NFRLs.

Provide/Coordinate proficiency testing (PT) or interlaboratory comparisons in the ASEAN region and provide pertinent information on proficiency testing or interlaboratory comparisons organized by other relevant organizations.

Conduct training in the specific areas of expertise, if necessary. 

Provide information on the availability of food and food-related testing laboratories in the area of expertise in ASEAN upon request.

Become resource of information for certified reference materials (CRMs) or reference materials (RMs).

Upon request, serve as reference laboratories in cases where there are dispute in analytical test result.